What's New
November is such a busy month. It makes it all too easy to forget the one thing that matters — being thankful.
We try never to forget how fortunate we are at Cranberry's. We have awesome customers, and a beyond-awesome crew working to serve you behind the counters of both the Grocery and the Eatery. It feels good making people feel better, whether it's with a healthy meal, or a n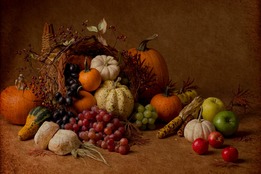 atural remedy or body care product.
What's going on in November? My goodness! There are so many exciting things. First and foremost, you'll want to get your name on the list for a grass-fed, pesticide-free Thanksgiving turkey from world-famous (and nearby) Polyface Farms.  Also, with the weather turning cooler, you'll want to warm up with our fair-trade hats, scarves, and gloves from Andes Gifts, handmade by workers paid an honest wage in Peru and Bolivia.
What else? Champagne for a dollar! Election Day discount! Christmas parade hot chocolate! Oh, shoot, we might as well make a list …
November 4 (Sunday) – Daylight Saving Time ends. Don't forget to "fall back".
November 6 (Tuesday) – Election Day. Get a 10% discount if you're wearing your "I Voted" sticker.
Novemb
er 9 (Friday) – Sparkles & Sweets. Enjoy champagne for $1 and a free array of Cranberry's specialties as downtown Staunton kicks off the holiday shopping season. Starts at 6 p.m.
November 10 (Saturday) – Veterans Day parade. Thanks to all who have served our country.
November 16 (Friday) – Polyface Turkey Day. Time to pick up your Polyface turkey for Thanksgiving.
November 22 (Thursday) – Thanksgiving. Cranberry's will be closed so that we can enjoy the holiday with our families.
November 24 (Saturday) – Small Business Saturday. Stay away from the malls and the chains. Support your local downtown businesses!
November 26 (Monday) – Christmas Parade. We'll have hot chocolate for $2 to warm you up before the start of the 7 p.m. parade.
November 27 (Tuesday) – Winter Hours. It's getting dark early, so we'll start closing a little earlier. See you from 7:30 to 5:30 throughout the winter!
And, above all, let's be thankful this November.
From all of us to all of you, thank you.
Joseph, Sierra, Kristin, Crysta, Greg, Angela,  Keegan, Allie, Heather, Nicole, Rob, Michael, Layla, Larry, Lilli, Lilley, Brooke, and Syrina.